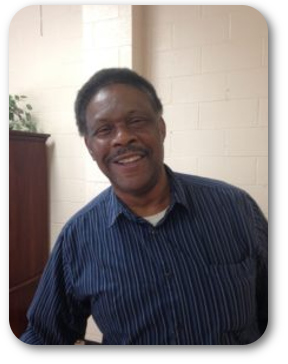 We are excited to celebrate David Hardy on April 22, from 5-7 p.m. in the BUMC Fellowship Hall! This event will include  an opportunity for comments or David stories as well as a chance to show David our appreciation in a financial way.
David's presence in the church Monday through Friday has been constant through the many changes in ministries and staff members. In addition to being a full-time custodian and handyman for the entire Blakemore facility, David has also served to set up special events, receiving and storing Frozen Assets supplies, assisting in the Nearly New Store, carrying clothes to ARC, emptying the discarded clothing bins, and selling clothes when others can't be there. David also established the sack lunch program in conjunction with the BUMC Food Pantry, helps individual members with their personal home projects (you know who you are), and has taken reduced or no pay when the church budget could not be met.
He is the face of care and resources for people experiencing homelessness and need who enter our Bowling Avenue doors every day. He has a servant's heart whether he is helping Blakemore or his own church family.
Recently, several members of Blakemore have helped David secure his own affordable home. Beyond this, members have worked to establish the David Hardy Trust Fund in hopes to secure David's financial future. We are grateful to our church family for considering a donation to help us give back to our longest serving staff member and brother in Christ.
To make a donation to David's Trust Fund, please mail donations to Blakemore UMC at 3601 West End Avenue, TN 37205. Please be sure to add David Hardy's name to the memo line of your check or along with your name on the outside of your envelop if you are donating cash. This will assure funds get directed to the correct account. Please note that donations made for this purpose are not tax-deductible because they are not for the general work and mission of the church but instead for the Trust Fund. To make donations directly to the Trust Fund, mail checks to:
Equitable Trust Company
FBO David Hardy Trust Fund
4400 Harding Pike, Suite 310
Nashville, TN  37205